DINNER
[UPDATE 3-13-17 – The dinner is now full. Please check back as additional space may become available at a later date.]
The 66th Philly Non-Sports Card Show takes place April 22 and 23 at the Merchants Square Mall, 1901 S 12th St., Allentown, PA. The exciting theme for the show is two great Topps licenses—Wacky Packages (50 years) and Garbage Pail Kids (32 years).
Six outstanding artists who work on the above two Topps' licenses will be there and are coming from various parts of the country. They are Neil Camera, Smokin' Joe, Layron DeJarnette, Joe Simko, Jeff Zapata and Chad Scheres. There will be a special dinner on Saturday evening at the Hilton Garden Inn Airport, 1787 Airport Rd and you will have an opportunity to chat with the artists. Reservations are very limited and you must pre-register to attend.
Jeff Zapata will lead a tribute to the recently deceased artist Jay Lynch who played an integral part in both Wacky Packages and Garbage Pail Kids. Fans will have the opportunity to share some of their fond memories of Jay. There will be a special dinner promo (see rough shown on this page) and prizes.
[UPDATE 3-13-17 – The dinner is now full.Please check back as additional space may become available at a later date.]
Time: 6:30 pm; pre-registration is required to attend dinner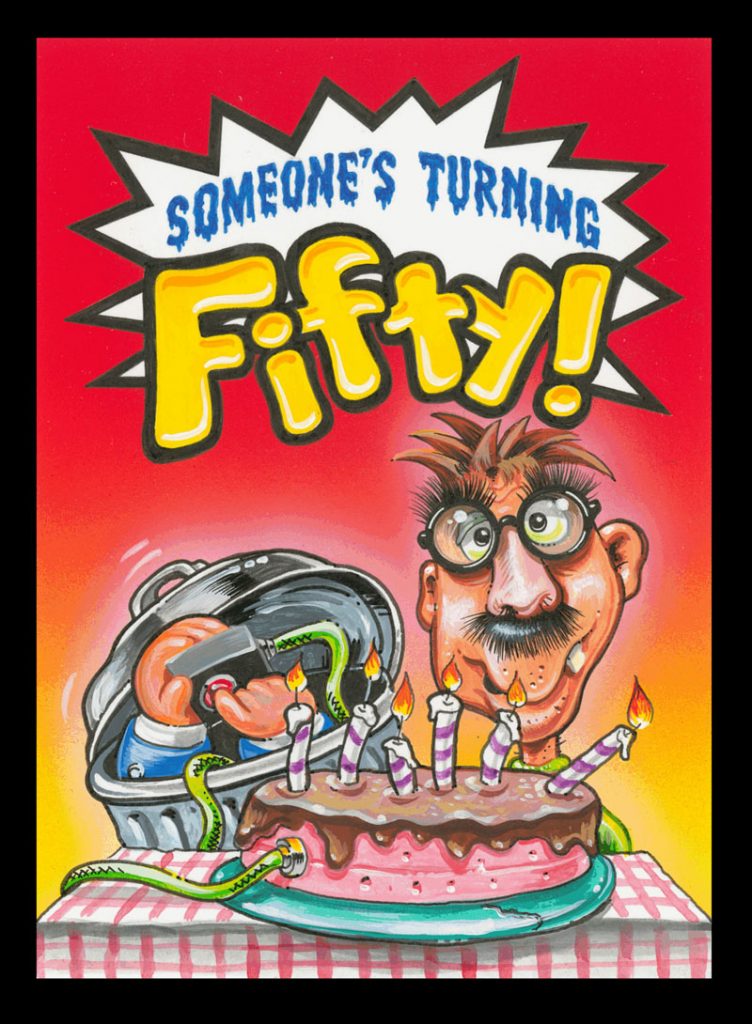 ABOVE: Exclusive dinner promo card featuring art by George Wright. All dinner attendees will receive this exclusive and very limited-edition promo card.