Guests – Fall 2014
The artist line-up for the Fall Philly Non-Sports Card Show includes the very talented artists listed below. (tip: click on card titles in blue to see sample of the artists' work)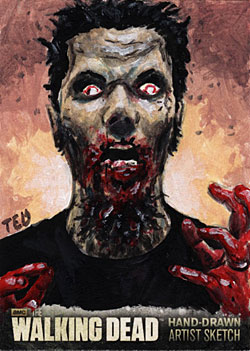 Ted Dastick Jr.
Ted Dastick Jr. describes himself as a collector who likes to draw. He has been doing sketch cards for six years and says it's a thrill every time his work is released with a new card set. "Never did I dream I'd be working with companies like Topps or on licenses like Star Wars, these are things I grew up on" says Ted.
In addition to his trading card work, Ted has done work for the Philadelphia Phillies, Horrorfind Weekend, Scares That Care, several T-shirt websites like Teefury and RIPT Apparel as well as many charity projects and private collections.
Select trading card credits: Star Wars Galaxy, Indiana Jones, Mars Attacks Heritage, Mars Attacks Invasion, The Walking Dead, Star Wars Galactic Files 2, The Hobbit, Batman The Legend, Marvel Premier, Classic Vintage Movie Posters Sci-Fi and Horror Collector Cards, Women of Dynamite, Classic Mythology II, Space!, Voltron, Dungeon Dolls, Legendary Lovecraft, 1600 Pennsylvania Ave NW, Bettie Page Private Collection, The Art of Robert Aragon, Hammer Horror, and Night of the Living Dead. Upcoming projects include: Guardians of the Galaxy, The Wicker Man, and Hallowe'en. Visit Ted's deviantART page.
Laura Inglis
Laura Inglis has been a life long collector of trading cards and for at least ten years, a vendor as well. Slowly she's made the transition to artist. Over the last several years, Laura has worked on over 30 different trading card sets. In addition to her sketch card work, Laura is also the cover artist for the novels By Your Side and Testing the Prisoner.
Select trading card credits: Sherlock Holmes, Superman The Legend, Batman The Legend, Vampirella, Witchblade, Femforce, Military Posters & Propaganda, Dracula, and Transformers. Click here for a collage of Laura's sketch card work. Visit Laura's Facebook page and follow her on Twitter.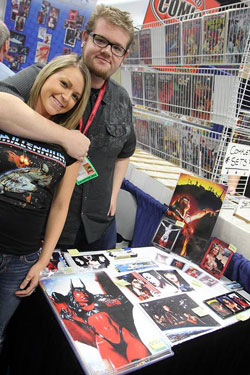 Gary Kezele
Gary Kezele is a freelance artist living in the greater Seattle area with his wife Ryann and Daughter Rose. He is self-taught and would be drawing for fun if he wasn't drawing for a living. Gary is a well known presence in the trading card industry, working on titles all over the map for both sports and non-sports properties. Being most well known for his work on Star Wars and Walking Dead, he has made contributions to over 30 sets since 2010, and continues to put out more artwork every day.
Gary appeared as a featured artist at SDCC 2014 for Breygent Marketing, working on titles such as American Horror Story, Grimm, and Women of Dynamite. Look for a table full of prints, original sketches and a modest selection of regular and oversized artist proofs and blanks for commission at his table at this years Philly Non-Sports Card Show.
Select trading card credits: Transformers, Batman the Legend, DC New 52, Marvel Bronze Age, Warlord of Mars, Marvel Beginnings, Bettie Page, Lady Death, Pop Century, Best of Baseball, Best of Football, Topps Museum Collection, Sportkings, Once Bitten, Bombshells, Contemporary Pinups, DAWN, Dark Zodiac, Mars Attacks, and many more. Visit Gary's DeviantArt page and follow Gary on Twitter.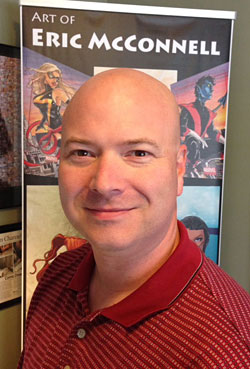 Eric McConnell
For Eric – drawing has always been a passion. A self-taught artist, Eric began meeting monthly with a group of artists to eat, draw and learn from each other.  During those "Dine and Draw" meetings Eric was introduced to sketch cards and recalls "I thought it was great, to be able to create a piece of original art of characters I love on a trading card". Eric began working on official sketchcard sets about four years ago as well as personal commissions and other pieces.   "I've always loved to draw, but to be able to draw these characters for officially licensed sets has really been a boyhood wish come true." Eric is currently working on sketch cards and base cards for several trading card sets coming out in the next year as well as a few independent projects.
Select trading card credits: Marvel's Greatest Heroes, Marvel: Bronze Age, Women of Marvel 2, Marvel Universe 2014, DC: Women of Legend, Spellcasters, Classic Mythology II, and Women of Dynamite. Visit Eric's deviantART page and Facebook page.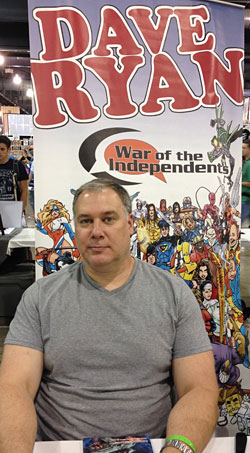 Dave Ryan
Dave Ryan is best known for his Eagle Award nominee comic book series called War of the Independents and has two other creator owned titles called Penance and Bye BiPolar. He has worked on other comic titles such as Deathlok, Hercules, Owlgirls, Forty-Five, Judge Dredd, Xenya. and Unbearable.
Select trading card credits: Marvel Premier, Guardians of the Galaxy, Iron Man 2, Marvel Beginnings, Thor, Captain America, DC New 52, Painkiller Jane, Hack Slash/Lady Death, Tarzan 100th Anniversary, Walking Dead Comic, Shi, Grimm Fairy Tales and CBLDF Liberty Trading Cards. Visit Dave's Facebook page.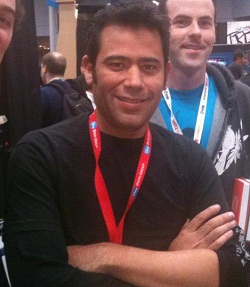 Jeff Zapata
After 12 years of working as an Editor / Artist for such comic book companies as Valiant, Acclaim and Crusade Comics, Jeff Zapata landed at The Topps Company in the late 90′s to produce souvenir magazines for Star Wars: Episode One. Shortly after the success of the movie and magazines, Jeff took on marketing and product development for the Topps Entertainment Dept., which eventually led to creating, editing and art directing trading cards (including Wacky Packages, GPK, Mars Attacks and Hollywood Zombies). 13 Years later, Zapata recently stepped down as Editor / Artist for the company and now currently works freelance for Topps and other trading card companies.
Select trading card credits: Star Wars Return of the Jedi 3D, Stupid Heroes Trading Cards, Wacky Packages, Garbage Pail Kids, Mars Attacks, Vampirella, Marvel Bronze Age, and Red Sonja.